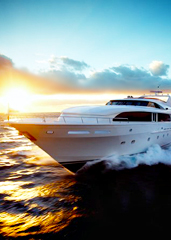 Buying a yacht: big decision. Not to be taken lightly.
But renting a yacht... still a big decision. Not to be taken lightly.
Sure is easy, though.
Don a skipper's cap for
GetMyBoat
, an online service that matches boat owners with those seeking a recreational watercraft for the weekend (that's you), now operating in Dallas.
Used to be, if you and some friends wanted to rent a pontoon boat for the Fourth of July, you went to a lake and consulted the one or two places that rent pontoon boats. But now, you go to the place that rents
all
the pontoon boats. And speedboats, catamarans, jet skis and other things that float. That place: the Internet.
See, when owners aren't using their boats, they can list them here. So you just plug in your location, browse to see what's available and reserve a flotation device for personal use. Like a 45-foot Catalina for cruising around Lake Lewisville. Or a 24-foot speedboat for wakeboarding at Lake Ray Hubbard. Or something else for somewhere else.
And if you happen to own a boat yourself, well, let's get together sometime. But also: you can use this service to rent it out and earn some extra cash.
Provided you don't mind a little extra cash.