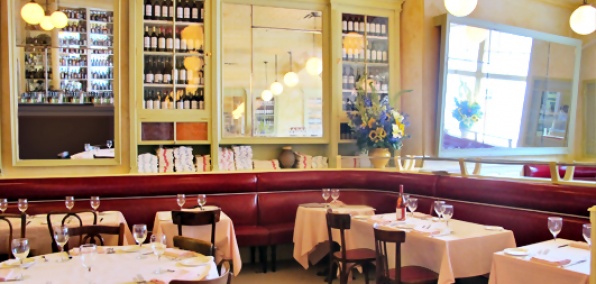 When the guy who did Goodfellas and The Wolf of Wall Street has a new movie, you'll see it.

When the guy who did "Born to Run" and "Hungry Heart" has a new record, you'll listen to it.

And when the guy behind Balthazar and Minetta Tavern has a new restaurant...

Well, it's this place: Cherche Midi, Keith McNally's new French brasserie in the old Pulino's space on Bowery, opening this Friday.

Here's what you need to know:

It still looks a lot like Pulino's.
What with the white tiling and towering shelves lining the walls—except now it's got a date-friendlier, fancy-tablecloth-ier vibe.

But you won't miss Pulino's at all.
Consuming steak frites in red leather banquettes tends to expedite the grieving process.

Pardon our French, but...
It's pretty f**king French. Foie gras. Salade Niçoise. Filet mignon au poivre. Basically a who's who of delicious things with silent consonants.

It's definitely not uptight, though.
Exhibit A: the bar serving you Good Things (that's white rum, pear brandy and ginger liqueur). Exhibit B: there's a serious burger.

Oh, right, there's a serious burger.
It's made with prime rib, roasted mushrooms, aged gruyère and bacon marmalade.

Which is really the only reasonable marmalade.