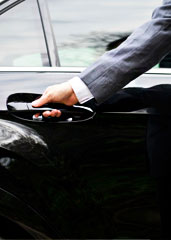 You've got to be at brunch in 30 minutes. You could:
A) Battle causeway traffic only to face off with a surprisingly formidable Prius driver over the last parking spot in all of South Beach.
B) Hitch a ride in a car with a mustache on it.
Say hello to
Lyft
, an on-demand ridesharing service for when you suddenly just don't feel like driving, or parking, or holding your hands in a 10-and-two position, or... anyway, it's launching in Miami Thursday.
What you should know: this service is powered by an app and a fleet of ordinary drivers who just want to make a little extra cash by giving rides with their own cars. All payment is handled through the Lyft app, and the driver's record and not-a-person-you-meet-in-the-first-10-minutes-of-a-horror-movie personality are vetted by Lyft.
So just download the gratis app to your smartphone, enter your credit card info and get to brunching with the knowledge that you've got a solid backup plan if a town car seems a bit too much for pancakes and Bloody Marys.
And if you need it: just open the app, see the drivers (and their ETAs) in your area and send a request. Once the driver accepts, relax and look out for a mustachioed fender.
No, the other one.