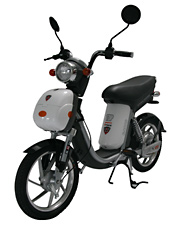 Absolute power corrupts absolutely, but these days gasoline power seems even worse.
Your new alternative?
E-Road
, a 21st-century version of the European moped—it's still European, but it's no longer a moped.
But it
is
totally electric. And since it's legally classified as an electric bicycle in the U.S., you don't need any special licenses or permits to tool around town with one—the wind in your hair, leisurely darting in and out of lanes as you see fit. And you don't have to, you know, actually pedal, although doing so will give you some extra juice—admittedly with a bit less roar than a typical Harley.
You'll get a couple of hours on a charge, plenty of time for a jaunt from Los Feliz to Malibu. And the battery fits in a compartment up front—so when you get to the cafe, you can dodge all the struggling screenwriters and plug it in a wall outlet just like a laptop. It won't get your script done…
But you will maintain your rep for being plugged-in.