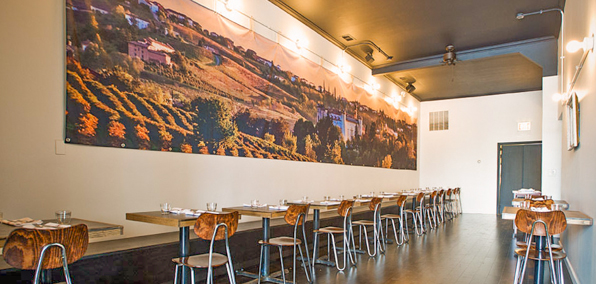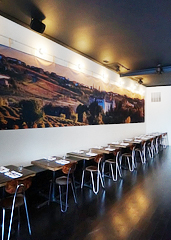 Happy Cinque de Maggio. That's what they call Cinco de Mayo in Italy.
It's not a holiday or anything, but there seems to be a lot of wine. So, what the hell, celebrate anyway.
Here's a good starting place:
Osteria Langhe
, a snug new wine-and-pasta specialist, opening tonight in Logan Square.
You'll quickly surmise they're really into wine here. First clue: a mural of vineyards hanging in the dining room. Second clue: the bottles they keep rolling around on little carts and leaving at your table.
Their mission: to get you jazzed about Piedmont, Italy's big wine-growing/beef-producing region. Though, truthfully, you do come with a pretty high wine-and-beef-enthusiasm level already.
The chef owned a restaurant in Italy for five years and knows his way around poached veal, beef crudo and tagliata with steak. In other words, this will serve as your new off-the-beaten-path date spot. Candles, wine, pasta—the story basically writes itself.
Still, with friends you can commandeer the large table by the front window. Start with a
Manhattan Piemontese
(it's made with amaro from the region), then proceed to go nuts on herb-crusted frog legs and grilled octopus.
That story has endless possibilities.