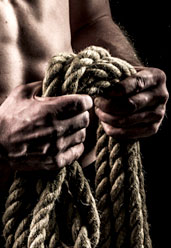 You've sat out most LA exercise trends.
Paddleboard Shake Weights. Hip-hop nunchakus. Downward dogs... with actual dogs.
But tug-of-war class—that just makes good sense.
Cue the whistle for
Gameplay Fitness
, a new program of 50-minute workout classes based entirely on schoolyard games, now taking sign-ups for a May 12 start date in Sherman Oaks.
Recall: in third grade, you always noticed how jacked your lats got after a good game of tug-of-war. So now, this: playground games, slightly tweaked to become adult workouts. Thanks, third grade.
Your first class is gratis. Sign up solo or with friends, then come to the Lions Taekwondo Academy, where the classes are being held for now. (Like a tug-of-war pop-up, really.) You'll ditch your shoes, you'll be placed into a group by a trainer, and... before long, Prince is blasting, and you're running around playing some weird version of duck, duck, goose involving push-ups.
Before class is over, there will also be a dance-off, a relay, wheelbarrow races, dodgeball and tug-of-war, with an interval of boxing, undulation rope and double Dutch. If that all seems too easy, you're ready for the more advanced course next time.
That's right: advanced duck, duck, goose.