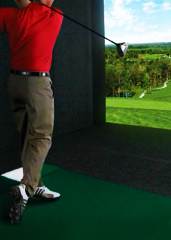 Bummer about the Masters rain delay.
Maybe Ernie Els can come over and practice in your living room instead.
Because here's the
OptiShot Golf Simulator
, the game's latest advancement that's making up to 28 of the world's most legendary golf courses playable from the comfort of your own flat-screen, available now.
You've probably seen similar simulator setups in the golf shop. Well, this is like those, only portable and not the price of a second home. It comes with things like an infrared swing pad with 16 high-speed sensors to analyze your swing, adjustable rubber tees and no net. So... get a net.
You can set it up anywhere you've got a flat-screen and 8.5-foot ceilings. But let's assume you're using it at the office on a rainy day like this one. Plug the cable into that mini piece of astroturf, and select a course (Long Island Black, Ponte Vedra, Österåkers Golf Club...) and a game. Like skins. And you know how the rest goes.
Oh, and they'll have a live version soon where you can compete against two to four other players online.
Try to avoid BobBarker90.