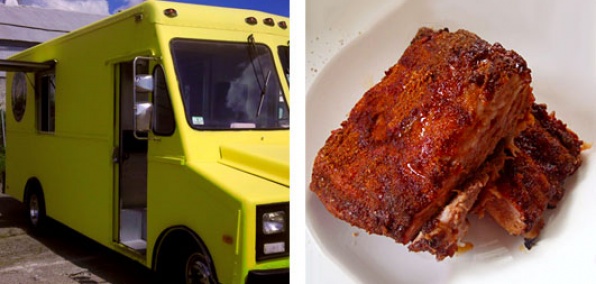 Someone's trying to prank you.

By filling an entire truck with smoked barbecue ribs on April Fools' Day.

Actually, this isn't a prank at all.

It's just an accurate description of Lilian's Smokin' Rack Barbecue, a magnificent mobile machine with no other purpose than to supply you with Texas-style ribs, rolling into town on April 1.

Our story begins with a girl from Texas. Yes, that would be Lilian. Lilian loves ribs. So much that she's dedicated her last 10 years to perfecting a dry barbecue rub made with brown sugar and savory spices. And now she's smoking ribs for up to six hours and selling them out of a truck painted bright yellow. Lilian's good like that.

But it's not just ribs. Nope, in case your day involves handling important legal documents, art restoration or handshakes, there are less messy options. Like a brioche pulled-pork sandwich topped by barbecue sauce made with New Hampshire maple syrup. Okay, so that's going to be messy, too. You'll just deal with it.

And wash it down with some sun-brewed Texas sweet tea. Which is, of course, tea brewed by soaking in hours of direct sunlight instead of boiling water.

A breakthrough in renewable sweet tea.