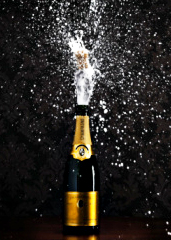 Someone please let George Washington, Abraham Lincoln, Alexander Hamilton and Thomas Jefferson know that they're about to see some wild... stuff.
Break a couple bills for
The Gold Club
, a massive two-story complex where corseted entertainers provide private champagne services (among other things), now open at Town Square.
There are nudie bars. There are gentlemen's clubs. And then there's this place. They need a new name for this place. Two floors. Velvet couches. Lucite stages. A 30,000-watt sound system. (You should hear what that thing does for "Cherry Pie.")
Plan on showing up here whenever you hit your second wind. They keep the place open until 8am on the weekends, so you've got a pretty wide margin of error to work with there.
Then, once you arrive, have a hostess take you upstairs to one of the private rooms. Ask for a bottle of something that bubbles. And take note of your new leather and plush surroundings while you wait for April or Tiffani or Jordyn or Marge to join you.
Okay, there probably won't be a Marge.