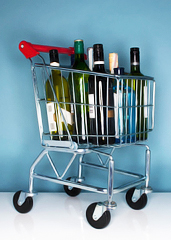 We're lovers. You know that. But every now and again, something comes across our desks that just seems... suspicious. Because of the tremendous material upside to all our lives if these claims pan out, we at times put ourselves in harm's way to investigate. Albeit skeptically.
We call it: Skeptical Investigation. (Trademark pending.)
THE CLAIM

A new-to-town website called
Qwiker Liquor
has the noble goal of becoming the GrubHub for liquor stores by delivering your favorite libations to your door in an hour or less. It was either that or curing cancer. We admire their courage.
THE INVESTIGATION

The service is currently in beta for Chicago (they also serve New York and LA). They only have a handful of liquor stores participating.
This weekend, our intrepid lead investigator was too afraid to face marauding green hordes to get his St. Paddy's supplies: a giant bottle of Irish whiskey, a sixer of Guinness and a case of green beer. Actually, this makes the investigator more of a coward than intrepid. Anyway, he turned to this service for help.
THE VERDICT

The whiskey and the stout arrived precisely 43 minutes after placing the order. The liquor store, however, did not stock green beer.
So... another test passed.