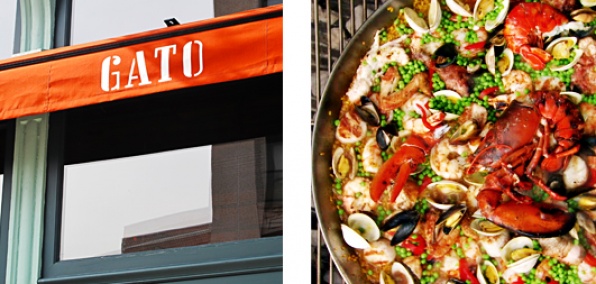 1. This isn't a big deal at all.

2. No one is anticipating this in any way.

3. It probably won't be any good.

Those three lines were the biggest lies we could come up with about this place.

Now for some truth...

Gato is here. It's a king-size Mediterranean spot from some guy named Bobby Flay, and it's quietly starting dinner tonight in NoHo (and then probably not very quietly after that).

This... is going to be a scene. Bobby Flay's really famous. And has a pretty well-documented record of being tough to beat at cooking. Which works out great for you. Because now all that victorious energy gets put into your seafood paella. (The best paella always comes from a competitive place.)

You're going to see a large, rectangular wooden structure with stools and small red lampshades over it right when you walk in. That's a bar. Our suggestion: bring someone who's really into the Food Network, and start at said bar.

Eventually, one thing'll lead to another, and you'll lead your companion down a path of Spanish tiles into an area defined by brick walls, dark wainscoting and steel-and-glass chandeliers. There, you'll sit down to, say, a blue-cheese-topped charred steak.

Kneeling is also acceptable.
Note:
<a href="http://gatonyc.com" target="_blank">Gato</a>, opens tonight (call ahead to confirm), 324 Lafayette St (between Houston and Bleecker), 212-334-6400