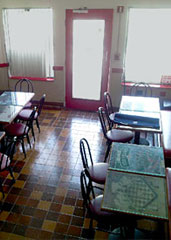 Things that have been back:
1) Backstreet.
2) Schwarzenegger, Arnold.
3) These two shuttered restaurants.
About number three: welcome back
DooWee & Rice
(pictured) and
Spinnaker
, two bygone eateries returning to their original haunts for a limited time.
Here's your required reading:
The Origin Stories
DooWee & Rice:
A Somerville-based mad science lab of Asian-street-food experiments that closed in November 2013.
Spinnaker:
Boston's only revolving restaurant, which slowly whirled 16 stories atop the Cambridge Hyatt before closing in 2004.
What You'll Find
DooWee & Rice:
Endless chicken and rice. Smoked-salmon bao.
Spinnaker:
A buffet complete with a raw bar, carving stations and a bar replicating Spinnaker drinks of old. (Mmm... replicated cocktails.)
What You Won't Find
DooWee & Rice:
Their marinated-beef noodles. It's just not going to happen. Sorry.
Spinnaker:
It's not rotating. Huge win for the vertigo prone.
How Long It Lasts
DooWee & Rice:
Every Wednesday, Thursday and Friday for a month. Or at least that's the plan.
Spinnaker:
Exactly 180 minutes of Valentine's Day–ing.
What Happens After
DooWee & Rice:
Will take up permanent residence in Wonder Bar's kitchen.
Spinnaker:
Reverts back to being a ballroom. The kind without a raw bar.
Remember to pour out a little mignonette in its honor.