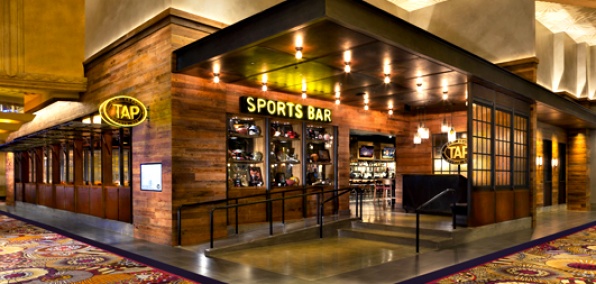 In terms of sports-related insanity, March Madness gets too much credit.
There are plenty of other months to get all crazy over where a ball goes.
Right, so about your new March Madness mecca...
Presenting
TAP
, a glittering sports temple of flat-screens, beer in liquid form and beer in food form, now open at MGM Grand.
What once was the home of the hotel's lions (like, the real ones) is now a vast, industrial space filled with sleek, wooden tables, Magic Johnson's old jersey and Oscar De La Hoya's boxing glove. Not the one from the Pacquiao fight, though. Ouch.
So this is the kind of place where you'd come to watch anything from March Madness games to Louisiana's baton-twirling quarterfinals, because aside from all that random sports memorabilia, TAP's got 60 HD flat-screens (for real-time game multitasking), 220 seats (for comfortable bracket tracking) and more local and seasonal beers than John Wooden has NCAA championship titles.
More re: those beers. You could have them as is—or in the form of a cocktail, like a Belgian mojito or a Framboise martini. You could also have them in the form of food—like beer-can chicken,
beer-battered mac and cheese or hops-smoked beef brisket
.
You can be almost positive there's no beer in the water.
Almost.