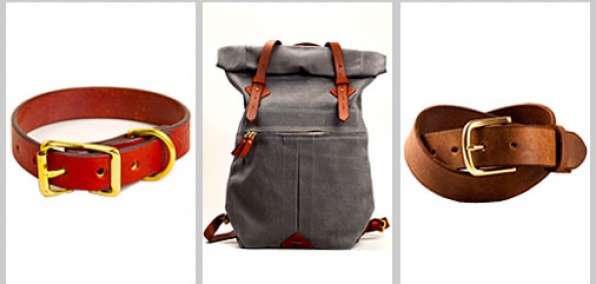 Your belt...

Your dog's leash...

Both equally important in LA's leather lexicon.

You'll find soft, supple examples of each at Tanner Goods—a slender Downtown shop filled with Portland-crafted leather accessories and rugged outerwear, now open on Broadway. Here are the four things you need to know.

It's got your next drive covered.
Because you live in a place where you might drive to the mountains... with your top down, here's where to stop first for deerskin driving gloves and a Horween-leather-accented twill canvas duffel to toss in the backseat.

And you're still covered when you get to the cabin.
Waxed-canvas jackets from the Woodlands, hiking boots from Oregon's Danner, shelves of Tellason's selvage jeans, English-bridle-leather camera straps—what, some people still have actual cameras. Anyway, that's all here. And yes, dog leashes, too.

You can get your own custom belt made on the spot. In five minutes.
All you have to do is pick the color, size and make of your strap, loops and buckles.

The jukebox kinda rocks.
Like any good leather-and-more store, there's a vintage jukebox playing 45s from Bowie, the J.B.'s and Zeppelin. They'll hand you a quarter for three songs.

Time enough for three new belts.