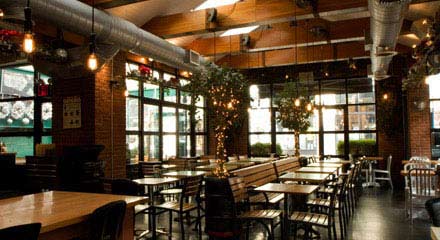 Nothing takes the edge off the end of summer like a spot that keeps it going.

Welcome to SoHo Park.

Soft opening Wednesday, SoHo Park is an old mechanics' garage that's been transformed into a casual urban "park" with a bier garten out back—ivy and hubcaps grow on brick walls, park benches line up for seating, and glass walls open up to the great outdoors...er, well, Prince and Lafayette.

Stop by the casual, green counter-service spot if you're in sensory-overloaded SoHo and just craving some simple, gourmet comfort food, like grilled cheese sandwiches, burgers and salads, all served in craft paper and wire baskets. The 12-seat communal table right by the sleek black fireplace is perfect for warming up during colder months with some Gluevein (Austrian spice-mulled wine) and daily specials served on carved-out butcher blocks ('cause you know everything just tastes better on a butcher block).

But while you still can, head to the outdoor patio with the psychedelic camo-green picnic tables for the bier garten experience—you can get a 16-ounce stein of beer with a Bulgarian Bratwurst or Hungarian Spiced Kielbasa for just $9.50. Or have an urban picnic with a half-bottle of Veuve for just 25 bucks (served with two flexi-straws).

Because winter will be here soon enough.