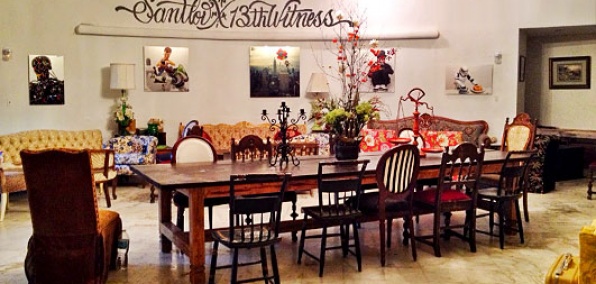 Take a look at your phone.
Go ahead. Check Facebook, snap a pic of your lunch, whatever.
Now, put it away. Somewhere nice and safe.
Because where you're going, you don't need phones.
Stick with us here.
It's called
OddFellows Speakeasy
. It's now open. And...

... you'll find it in the Plymouth Hotel.

Same place that houses the Sweetwater Beer Garden. Run by the same guys, too. Except this new spot's got a decidedly sultrier vibe—dim lights, vintage couches, glittering chandeliers.
... it's one of those members-only spots.

With all kinds of rigorous tests of your worthiness. Walking on hot coals. Wrestling a great white. Your best karaoke rendition of "Wrecking Ball." Or, you know, just filling out an application
here
.
... they're not afraid to mess with the classics.

Cocktails, that is. Think: gingerbread Old Fashioneds and mezcal Blood and Sands. You'll order them from a hotel reception desk that's been converted into a bar. Best argument for repurposing yet.
... your smartphone's sitting this one out.

There's a strict no-cell-phone policy here. But... there is a phone booth. Sort of. See, it doesn't actually dial out. It's more like a confessional. Whatever you reveal in there gets recorded and piped into the restroom for everyone's listening pleasure.
So bring your A material.