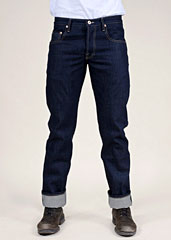 Raw.
It's how you like your sushi. Your data. Your Eddie Murphy.
All of which are critical sources of inspiration for your pants...
Keep things impeccably underdone with
Dyer & Jenkins
, two local dudes making durable, unprocessed jeans and things to wear with those jeans, available online now and at Abbot Kinney's Mise en Scène.
If you were auditioning for the role of Biker #2 on
Sons of Anarchy
, these jeans would be damn good for dressing the part—they're made from raw Japanese and US selvage denim, they're Downtown-manufactured, and Brando could've worn 'em in
The Wild One
. Just don't get carried away and try to break up any rumbles at Neptune's Net. Stick to your shrimp cocktail. They're good shrimp-cocktail jeans, too.
Anyway, once you go to their online shop and you're in that zone—that clean-archetypal-American-badass-clothes zone—you'll probably also want to throw in some supersoft white T-shirts and full-cotton crewneck sweatshirts designed to fade over time.
Unless they go under the knife.