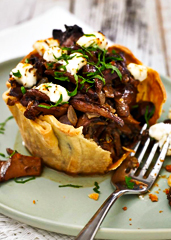 The holidays have officially reached "nigh" status.
It's going to get festive.
It's going to get hectic.
It's going to make you want to outsource a highly pedigreed chef to cook things and bring them to your house when it's all over because you don't feel like doing anything anymore.
Funny you should want that...
Because here's
Heirloom Kitchen
, a new dinner dispensary that's like having a personal farmer who's also a former Sel de la Terre chef who also does next-day delivery, serving Dedham now and expanding to Boston proper in January.
Break in case of these emergencies:
You've invited a date over.

And you don't know how to produce braised chicken ravioli. No worries. They'll bring those. They'll also bring you flowers and candles in case you forget your own. Which you will.
You're going out for drinks.

It would be wise to procure a supply of
rigatoni puttanesca
for the following afternoon should you find yourself feeling less than chipper. Which you will.
It's the Pats game.

And Regina's doesn't deliver family-size portions of pot roast with horseradish-braised beef brisket. Or Mexican-chocolate-chunk ice cream.
Which... wouldn't travel well in a pizza box.