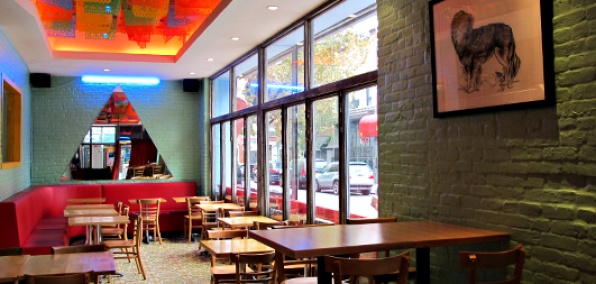 Perhaps you've heard—
Mission Cantina
is alive. It's the appropriately divey LES corner Mexican spot from Danny Bowien and the Mission Chinese crew. It's going to be huge, so we decided to scope out the situation, for you. Always for you.
Estimated wait:
Two hours at 7:08pm on a Saturday. Look for the Mexican-flag-painted column outside, give them your name and number, and head back into the LES night.
Nearby attractions:
A crucial part of your strategy. Golden Cadillac's two blocks north, Rochelle's four blocks west. And, apropos of nothing, Arlene's Grocery's got live-band karaoke two nights a week.
Real wait:
1:24. You'll get a blocked-number call. Inevitably, you'll be drinking and miss it. Twelve minutes later, you'll hustle over and say a silent, non-denominational prayer for mercy, which'll be granted.
The milieu:
A small cluster of simple two-tops topped with Fiestaware and lit by soft blue neon. Populated by a hodgepodge of iron-willed date-nighters, food-blog enthusiasts and tall blonde girls dressed entirely in black. Danny Bowien's on the line helping with
your lamb rack
, your chorizo-stuffed chicken and your tacos. Speaking of...
The taco situation:
You feel that? That's the feeling of the wait melting away to the flavor of al pastor and—get this—tacos of octopus braised with chicken wings. Worth it.
The cocktails:
Try the
Dirty Horchata
, a dangerous little soju-coffee-almond-cinnamon number.
But we hear she's got a heart of gold.