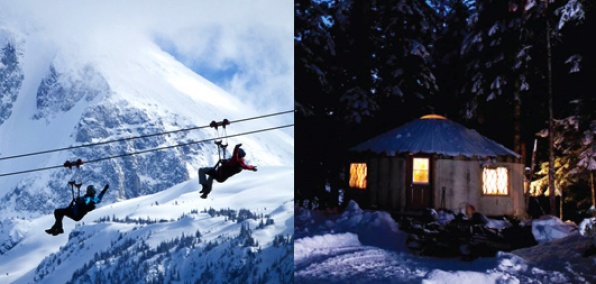 You know what they say about waiting 30 minutes after eating before swimming...

Well, let's hope that doesn't apply to ziplines.

Grab a steak and a harness for the Superfly Dinner Tour, a three-course evening in British Columbia where you'll ascend a mountain, enjoy a meal and then zipline all the way back down, taking reservations now and beginning December 7.

This is pretty standard dinner-and-high-altitude-zipline stuff. You'll head to Whistler, meet your snowcat chauffeur and allow him to escort you up the 7,500-foot Rainbow Mountain. At the peak, you'll spot a cozy tent. Inside: a roaring fire, a large wooden table and the culinary bounty of Canada's finest mountaintop chefs. Oh, and the safety equipment necessary for when you're finished eating and ready to ride a 60 mph zip down to the bottom.

Now, sure, it could work for a family holiday dinner. But consider this: they're open on New Year's Eve and they'll have all the trees and zipline platforms lit up for the occasion.

Should make it easier to find the champagne.