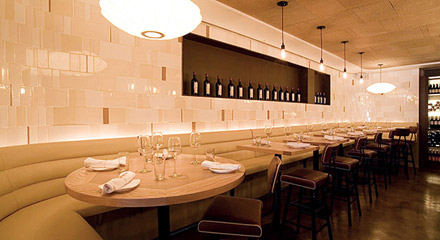 It's amazing how hard it is to find a place where you can just get away for a few good small plates and a drink.

Add an atmosphere worthy of some lounging, and you've got yourself a go-to spot.

That'll be Boqueria.

The owner of Suba snagged chef Seamus Mullen (who siesta'd in Spain for the past two years) to create a cozy and sleek cervezeria (Spanish for beerhouse), with a stone bar, burlap-covered ceilings and tables all countertop height (for that barfly feel).

Dig in to the authentic flavors, from the Pa de Fetge (boar terrine with apple and bacon) and Croquetas Cremosas (creamy serrano ham croquettes), to the Datiles con Becion y Almendras (dates stuffed with almonds wrapped in bacon), which are like mini explosions of goodness in your mouth. The menu is organized by plate size, from huge to large to small to tapas to the teeny Pintxo size, essentially three small bites on a skewer. Or snag some Montaditos, small bites on bread, which change daily beneath the glass counter at the bar.

And to really win our hearts, Boqueria also has Beer Sangria (bless them), an authentic concoction of Estrella de Galicia and Alhambra lagers with citrus fruits.

As if good things couldn't get even better.