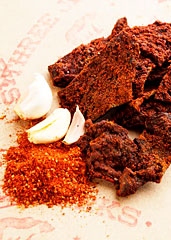 In your life, you've been fortunate enough to have two trusted beef jerky advisers.
"Macho Man" Randy Savage, obviously.
And now, Mario Batali...
Snap into
Three Jerks Jerky
, a new filet mignon beef jerky made right here in LA—and it's good enough that Batali has already deigned to stock it at Eataly in NYC—available online now.
Why you want this immediately: because other beef jerky isn't made of filet mignon. And this beef jerky is made of filet mignon. Right.
Oh, you want a little more info. Okay. Well, the meat comes from Central Valley farms here in California. The spices are mixed in Long Beach. The jerking goes on just east of Downtown. And one more time: it's filet mignon. So it's a more tender, flavorful version of dried, marinated beef.
Head to their website, and you'll see three flavors: your time-honored
Original
, with a bit of tang and a bit of black pepper, great for time-honored... sitting-on-the-couch-watching-Netflix-ing.
Memphis BBQ
, for your next backyard jerky barbecue. And
Chipotle Adobo
, which has a Mexican-ish chipotle glaze and a traditional Filipino marinade.
All of which is to say, yes, they do sell a three-pack.
So guess we're done here.