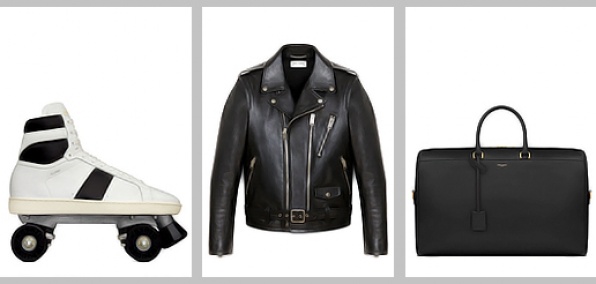 Marble.

Glass.

Leather.

Champagne.

Roller skates.

Sounds like your kind of party.

Only it's not a party. It's the world's first and only all-men's Saint Laurent outpost, a not-at-all-subtle reminder that your body could always use more leather tuxedo slippers and lambskin motorcycle jackets, now open in Union Square.

Yves Saint Laurent. God that guy was French. Really knew his way around a needle and thread, too. But you knew all that. You just didn't know his legacy would one day involve bequeathing you with 1,400 square feet of glorious excess (we're looking at you, four-figure roller skates).

So take a deep breath and step inside. Note how everything around you goes just a bit too far. In the best ways ever, though. In "Hey, that's a nice blazer, but are those sequins?" ways. In "It's almost Halloween and, oh, look, those shoes have glitter on them" ways.

By this point, someone will have already handed you a glass of champagne. And that will remind you that it's almost holiday-party season. Which will remind you that you're also surrounded by some more... subtle things. Things like tuxedos. And pinstriped suits. And leopard-print mohair scarves.

French-subtle, anyway.