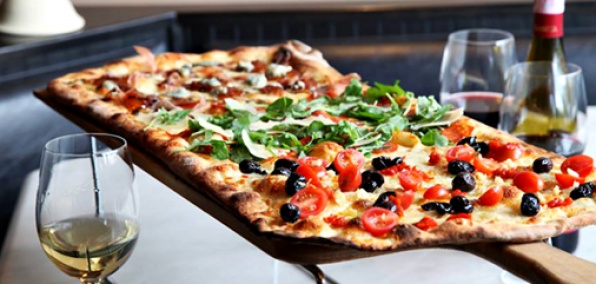 Today, let the wisdom of Yogi Berra guide you:
"You better cut the pizza in four slices because I'm not hungry enough to eat six."
Timeless. Hilarious.
And on the wall in big block letters at
Pizza Rock
, a highly decorated/somewhat insane pizza place that's come to Vegas. Downtown, specifically. And here's how you'll use it:
Experience Neapolitan perfection.

Or Sicilian. Or Romana. Or Chicago-style deep dish. They've got four types of ovens
for many types of pies
. And the guy working those ovens has won 11 different world pizza championships. He's basically the Bill Russell of pizza.
Experience... sports on television.

There's a big bar with big flat-screens. That's a prime spot to catch some football and eat some World Pizza Cup–winning margherita. They're only making 73 per day, so be quick about it.
Experience date night.

Grab a secluded, chandelier-lit two-top. Then feed each other slices from a smoked-pancetta pizza that's been drizzled with Campari. Yes, we're drizzling pizzas with Campari now.
Experience pizza nightlife.

Friday
 and 
Saturday
, they'll have DJs spinning until 4am from the back of a semitruck that's parked in the middle of the place.
Classic Vegas-pizza-parlor move.