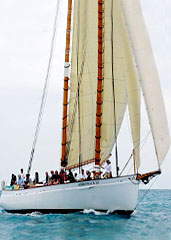 Surveying the open sea on a cherrywood sailboat deck.
That's for summer.
Appreciating the fall foliage with a chalice full of hot cider.
That's for autumn.
An 82-foot schooner that brings those two things together.
That's... fantastic.
That's also the
Fall Foliage Sail Aboard Adirondack III
, your front-row seat to the multihued splendor of autumn (if front-row seats could sail Boston's Harbor Islands and came with pumpkin ale). You've got until Columbus Day weekend to make it happen.
That
Adirondack III
: beautiful boat. It's modeled after a 19th-century pilot schooner and powered entirely by sail ("sailboat" and all).
So on a forthcoming crispy New England day (say, tomorrow), you and a couple dozen other leaf enthusiasts will board her for a three-hour tour. You'll take a seat on the deck. Your captain will hoist the sails and yell captain things. You'll shove off from Boston Harbor and start passing red-, yellow- and orange-tinged islands with names like Spectacle and Castle.
Pumpkin ale will materialize on deck. So will a topside picnic with turkey-cranberry sandwiches and piping-hot cider. You'll get the feeling that you're doing this whole autumn thing pretty well.
Tweed accordingly.