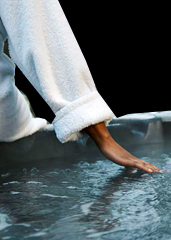 You've been back at work for a few hours now, and frankly, you deserve a little something.
Like a cookie. Or a gleaming palace of jade and massages.
Either/or.
Take off your clothes for
Immersion Spa
, a modern Korean day spa that will scrub, plunge and knead every last coherent thought from your blissed-out body, now open in Palo Alto.
Why you're in Palo Alto: maybe you're on a corporate retreat with angel investors. Maybe you're on a couples-massage road trip. Maybe you're on a solitary spiritual quest to find yourself via shoulder rubs. All of that can happen here.
After removing your shoes at the door, you'll soon find yourself in the Jade Room—it's a heated room with jade walls. Jade, they say, is all about cranking your libido, stamina and metabolism. And your metabolism's stamina. Maybe not that.
Then you can lose hours lapping the hot tub, 45-degree ice pool, Korean herb-filled dry sauna and eucalyptus steam room. If that's all you need, just get a day pass. But that would be like going to Tartine and not getting baked goods.
Treatment-wise, you should probably go full
Black Tie­
—it's 30 minutes of getting scrubbed with rough mitts, then a 90-minute massage.
Your favorite kind of black tie.