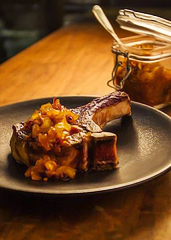 In the next few months, a bunch of new places to consume titanic cuts of meat are hitting town.
It's glorious. But it's also...
Actually, no. It's just glorious.
First up:
American Cut
. It's opening tomorrow in Tribeca. It's accepting reservations now. And here's how it stacks up...
The vibe:
High ceilings, brick walls, leather armchairs. Ideal for celebratory ribeyes or carnivorous dates.
Which makes it:
A solid six on our patented Old-School-to-New-School Spectrum™. Not Peter Luger's (a 10), but definitely not STK, either.
The pedigree:
It's from LDV Hospitality and Marc "Iron Chef" Forgione—perhaps you've been to the AC original.
Your meat guy:
A humble neighborhood butcher by the name of Pat LaFrieda.
The biggest steak:
Forgione's signature 42-ounce, 28-day-dry-aged tomahawk ribeye for two—also available with a two-pound lobster swimming in chili sauce. (That's 74 total ounces, if you're counting.)
Sauces:
Five, not including butters.
Toppings:
Seven, including foie gras.
Wine options:
Too many to count.
Vegetarian entrées:
Irrelevant.
If there's room for dessert:
Get the pumpkin cheesecake, which comes with syrup-poached cranberries, cinnamon whipped cream and pepita brittle.
And possibly a bigger pair of pants.