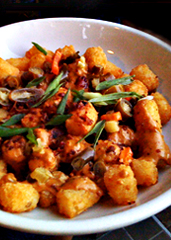 The Sox.
They're about to raise some gentlemanly havoc in the postseason.
Which works out, because now you have
Bar Louie
, the first Boston-proper outpost of the "Come... eat and drink the flavors of many nations" conglomerate.
It's now open, and here are the figures you need concern yourself with...
Steps from Gate A at Fenway:
about 225

Percent chance that fact pleases you greatly:
100

Seconds we would waste describing what it looks like inside because you already know because it's a Bar Louie:
3 too many

Number of oversize martini glasses it takes to hold an order of their bruschetta pomodoro:
1

Toast points it comes with:
9

Odds we only included that last figure because it's fun to say "toast points":
pretty good

Loaded-tater-tot basket options
you can choose instead because... tater tots:
2

Nights a week you can round up a group and order late-night food (they're open till 2):
7

Number of beers on tap:
20
Number of beers on tap:
20

Number of times we just repeated ourselves for emphasis:
1

Age you have to be to order the baked apple caramel cake soaked with whiskey:
21

Times you've had to flash an ID in order to eat cake:
not enough