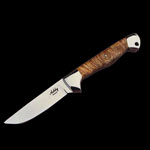 FOR HUNTING. OR WHITTLING.
Objectively Good-Looking Knives
When you need it: To cut rope. To carve your name in a tree. To fend off possums.
You'll call on: This arsenal of attractive handmade knives from a Dallas-based knife-maker. We're talking nine-inch hunter's blades with Damascus steel and giraffe-bone handles. That's bone. From a giraffe.