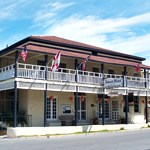 CEDAR KEY
A Waterside B&B. That's Haunted.
The Place: Island Hotel & Restaurant.
The Provisions: 10 antique-outfitted rooms, a patio with a double swing and gratis home-cooked breakfasts.
The Unique Factor: Rumor has it the place is haunted by 13 spirits. Oh, and you won't find any television sets or phones. So if you see something, maybe send Egon Spengler an email.