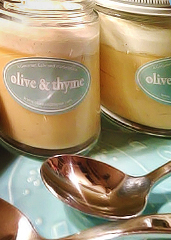 Not to stand between you and your weekend.
But it's almost go time, and you seem to have forgotten to arrange for your pudding delivery first.
That's right. Pudding delivery.
Attack the spoon drawer for
Mail-Order Pudding from Olive & Thyme
, the best thing to happen to your stack of mail since pretty much ever, available now.
This one's simple, really. You could get yourself to Toluca Lake for their famous pudding. Comes in three flavors: salted caramel, crème brûlée and peanut butter chocolate. Or you could... not. Just call them.
Within 48 hours, they'll make a fresh batch of each flavor. They'll pack your three puddings in with some dry ice. And they'll ship it all to you wherever you are. Los Feliz. Venice. Des Moines. We're just spitballing here. But if you're in the continental US and don't feel like dealing with pudding-related traffic, you're good.
And by the way, if you're the kind of person who likes to plan your pudding a few months out, just know that in December the flavors will change for the holiday season—think eggnog, salted caramel (again) and peppermint.
Suddenly, you're in the holiday-pudding spirit.