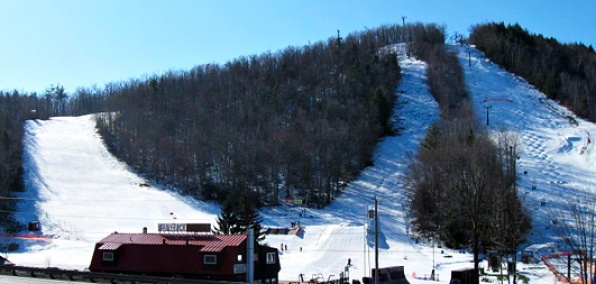 Here's the deal.

An entire ski resort is going on the auction block tomorrow morning.

And listen closely, because here's the good part: you're going to buy it.

You just are.

It's the 154-acre Whaleback Mountain Ski Resort in New Hampshire, it includes everything from the snowmobiles to the chairlifts, and here's what you can and will do with it once it's all yours.

Throw a mountain-sized private party.
Skiing is great. And you should definitely ski around a bit, since you just bought a mountain. But resort-warming parties are great, too. So throw one. Set up a ski lift champagne ride. Put one of the 30 included snowmaking machines in the one included ski lodge and have a man-made-blizzard dance party. Just some thoughts.

Make it a secret mountaintop lair and hide out in it.
Maybe you need a quiet retreat after cross-continental manhunts or high-society jewel heists. Maybe you're just tired and need a vacation. Either way, you'll have snowmobiles and a four-wheeler and a snow tractor to play around on whenever you need to. It's like a backyard, but way more unnecessary.

Run an actual ski resort.
It's a real-deal ski mountain with all the amenities. Couldn't hurt to turn a profit.

Then again... nah.