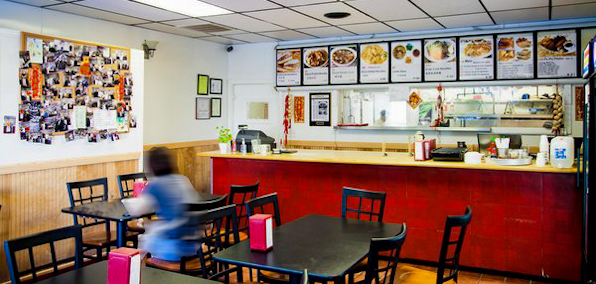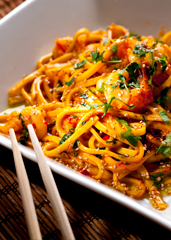 Judge a book by its cover.
That's something they say you should never do.
And they were right. You shouldn't.
Because today, you may find yourself in what looks like a downtown hole-in-the-wall, but is actually a new lunch-specific safe house filled with hand-pulled noodles and lamb stew called
Gene's Chinese Flatbread Café
.
It's now open. It's not at all what it seems. And here are your figures:
Number of weekend days this place is open:
0

Number of weekdays that leaves for quickie lunches:
right around 5

Seats along the windows facing Bedford:
4

Other seats:
not many

Types of strange Asian drinks in the cooler next to the counter:
6

Approximate number of items on the menu:
31

Number assigned to the quick-to-sell-out
House Noodle Soup
:
5

Average noodle width of their hand-pulled noodles:
1.25 inches

Dishes involving some form of lamb:
at least 3

Volume of your voice needed to order over all the kitchen commotion (scale 1 to 10):
7 (11 if it's noon)

Menu items featuring eggs hard-boiled in a tea-and-soy-sauce concoction:
2

Ideas this gives you for hard-boiling eggs in different stuff:
at least 9

Chance "stuff" will involve sake:
99.9%