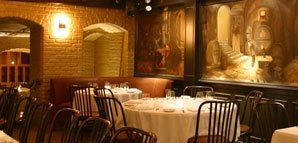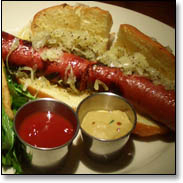 Good food is an essential component of a life well-lived. To help expand your palate, we at UD bring you Served Up, a periodic feature of food and drink items worth chewing on.
This month, our favorite summer staple: the hot dog. There are a lot of hot dogs in New York City, and even a Kobe dog doesn't raise eyebrows like it used to.
After all, anyone can squeeze some odds and ends into a sausage shape and call it a hot dog. And just because it's Japanese is no guarantee it'll be any better than the dog you picked up from a cart for a buck twenty-five.
Enter the new
Harry's Kobe Beef Hot Dog
, here to clear away the pretenders. Weighing in at half a pound, this dog has some serious heft to it, and the first bite can feel like you're working your way through a porterhouse. Instead of just relying on quality beef, the Harry's dog has real spice to it. They toss in a french fry and arugula salad as a distraction, but don't be fooled. You know what you're here for.
It's served up wrapped in a brioche and smothered with poppy-seed kraut. And if you need something to help you recover, try a Gold Reserve—a Harry's special that'll wash down the hot dog with Hennessey and assorted juices.
We always thought Wall Street was sort of a sausage-fest.