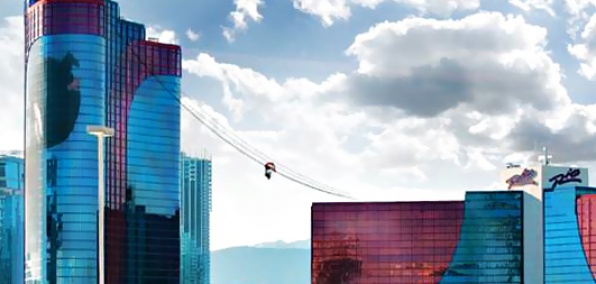 So you're sitting high atop a hotel rooftop bar.

You're several hundred feet over the Strip, looking down at all the glorious neon.

Having a cocktail.

When suddenly, you get the bright idea to do something crazy.

Well, here's something crazy...

Throw on a harness for the VooDoo ZipLine, an 800-foot, motor-powered, aerial zipline that'll send you soaring from the ledge of one Rio hotel tower to another, opening in August at the VooDoo Lounge.

This is why modern Vegas exists. Seventy seconds of pure Batman-style gliding between two buildings at 33 mph. (Kind of a metaphor for life... in Vegas.)

It'll work thusly: you'll take the arduous elevator ride to the 50th floor of the Rio's Masquerade Tower. You'll listen to the elevator music. You'll let it get you all fired up. When the doors open, you'll see a bar. Use that bar to feel the way a person needs to feel in order to jump off a perfectly good building. Then, head to the zipline.

After some harnessing, you'll disappear off the roof and land smoothly 30 stories down at the Ipanema Tower. At which point you're then hauled back up in reverse by a motorized pulley.

You're like a ziplining Sisyphus.