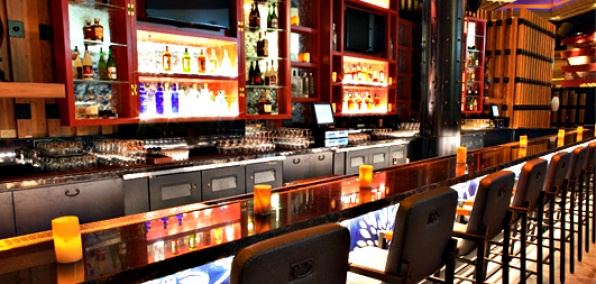 Look at you.
You must be starving.
Or not.
Hard to say.
Maybe you just had lunch.
Something hearty.
In a bread bowl.
Either way, just make sure you're ready. There's miso black cod on the way...
Meet
Kumi
, a monster of a Mandalay Bay restaurant serving up large amounts of Japanese deliciousness and the occasional chop, opening Tuesday.
You may know Yellowtail at the Bellagio—widely regarded as the best sushi in Vegas. Yeah,
that's
the one. This place is from the same chef (Akira Back). And it's packing
pounded Kobe beef and an ocean's worth of raw fish
into 10,000 square feet.
The first thing you'll notice here is the blue-and-white-tiled bar. Order a drink. Your date should arrive shortly. (Yes, you'll want a date here.) And when they do, you'll have two options:
—If you're feeling more of a Colorado-lamb-chops kind of vibe, step lively into the wood-and-steel dining room and grab a table (kimono-upholstered chairs included).
—But if you're in a seafaring mood, sushi bar it up. That's also in the dining room, right next to that giant rotunda of cherry blossom paintings. It's where you'll best enjoy the crab-salad-spicy-octopus-and-crispy-potatoes
007 Octopussy
roll.
Pretty sure that's a reference to something.