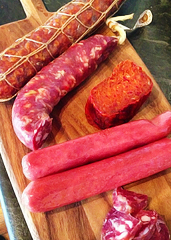 You've heard of Abe Froman. You know, the Sausage King of Chicago.
Well, the guy's made up. Fiction. Doesn't exist. A sweet daydream of John Hughes.
But
West Loop Salumi
, opening Saturday, is very, very real. Its proprietor is well on his way to becoming the Salami King of Chicago—a position that's been vacant too long. Here's the backstory.
Basically, he's a 28-year-old salami ninja. Or close enough. He had a consulting company. He sold it and went to culinary school. Then he began a quest to find the best cured meats in the world. He discovered a medieval salami-making castle outside of Parma, where they took him in and showed him their ancient ways. It's very
Kung Fu
. But with ham.
He's already made a name for himself in the wholesale game (Eno, Provenance). But with his storefront, you can swing by for a little black-truffle salami before a romantic date at home.
Or stay. There will also be a little sidewalk patio, where you can BYOB and nibble on milk-fed culatello (sort of like prosciutto, but from specially raised pigs), barolo salami (made with aged wine) and ciauscolo, which is a spreadable salami.
Spreadable cured meats = romance.