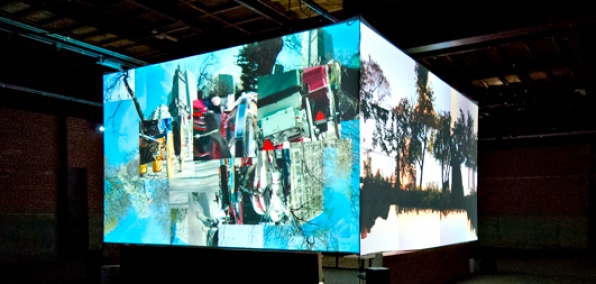 Out of all the video art installations in all the giant white cubes in all of Chelsea, this is the one you're going to have dinner in...

Monkey Town 3, where you enter a huge cube displaying art films and eat a scrumptious meal there. It's going on until August 11.

This all began as a fly-by-night art installation in circa-2003 Williamsburg (the salad days). Then it got reignited in another Burg spot until 2010. Now it's here for a two-month pop-up. Which means you, being fed, while two hours of audio-visual stimulation—from artists you'll read about 50 years from now—is projected 360 degrees around you.

Two seatings of 32 people a night. That's your window of opportunity. So bring someone—anyone—who can talk Miranda July shorts with you. Grab some advance tickets, show up, duck under the bottom of a suspended projector cube and start eating multiple courses of duck breast mole from a Pulqueria chef or roasted lamb from a Roberta's vet. While art happens.

What you're in for, visually: honestly, your guess is as good as ours. Probably some hectically panned clotheslessness. Maybe a stop-motion Venus flytrap or two.

2:1 odds James Franco had something to do with this.