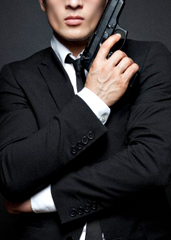 Let's measure you up against the unofficial
Screen Actors Guild Movie Action Hero Requirements Handbook
.
Jawline chiseled from stone: check. Catchphrase: check.
Ability to cartwheel through a steel mill explosion on camera: hmm, no check.
Yet.
Channel your inner John McLane with
The Action Movie Workshop
, a three-hour plunge into the art of throwing fake haymakers and shooting fake guns on camera, taking reservations now for this Sunday.
Think of this as a cross between
Inside the Actors Studio
and "How to Van Damme 101." Then, think about heading to the Armory. Notice the professional green-screen setup. You'll learn how that works later. Then, notice the actors all around you. You'll learn how to kick them in their faces later.
But first, a little tutelage under the watchful and probably really intimidating eye of a veteran actor-combatant. He'll be the guy teaching you how to execute believable on-camera fisticuffs (first rule: don't actually hit anyone). Later, you'll use the Armory's balconies and nooks as a backdrop for a choreographed shoot-'em-up using replica 9mm Berettas.
About a month after the class, you'll be emailed a video reel with all the good, the bad and the ugly moments.
Yes, firing a fake gun backward will be considered ugly.