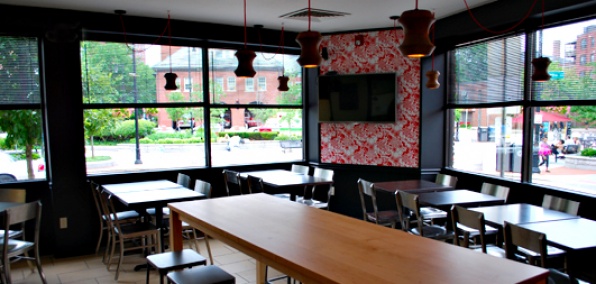 Cro-Magnon man was an idiot.

His idea of a solid date spot was a rock.

The takeaway: sitting in a sexy little room filled with dumplings is way better than sitting on a rock.

Or something...

Either way, here comes Patty Chen's Dumpling Room, your new hallowed ground for date-night glory vis-à-vis Taiwan's most beloved street food, slated to soft-open next week in Cambridge.

If anything screams "novel courtship grounds," it's a dumpling armory. Specifically, this dumpling armory.

It's essentially a little slice of Taipei right in Central Square. Couple dozen seats. Oddly soothing red, flowery wallpaper. And one flat-screen TV perpetually broadcasting all the neo-reality Asian pop-culture detritus you've come to love in a... place that broadcasts such things.

Sit. Relax. Put two straws in a bubble tea and let the cascading orders of kimchi dumplings and pan-fried pork Taipei Raviolis wash over you (option B: just eat them). Local dumpling overlord Patty Chen is behind it all. She's also behind those experimental PB&J and Nutella-banana dumplings your date just got all excited about.

Side note: the people serving you will be wearing slinky, custom-made Hello Kitty outfits.

Which your date may or may not be significantly less excited about.