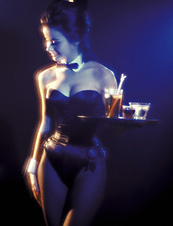 Saturday night had a good run.
It's not cooked just yet, but it might be time to plug your unhinged partying into a more strategic time slot—a few spare hours with enough energy to set your whole weekend on fire. We're thinking Friday…and the earlier the better.
Welcome the skin and sun lunacy that is
Ditch Fridays
at the Palms Pool, a
Playboy
-sponsored noontime bash that might be the best reason yet to play hooky and fly in early.
Think of it as your Playboy Mansion away from home. The usual tourist crowd won't flood in until the evening hours, so you'll have all afternoon to spend with a pool full of the most plugged-in locals (entertainers) and the latest crop of
Playboy
bunnies. (That includes 2008's cover girls from May to August, for those of you who happened to stray from the articles.)
Of course, it wouldn't be Vegas without a healthy concern for the environment, so the party's also unveiling the city's first solar-powered DJ booth—to cut down on your revelry footprint—along with biodegradable vinyl banners and an exceedingly humane cocktail list.
Just keep this email as far from your boss as possible.