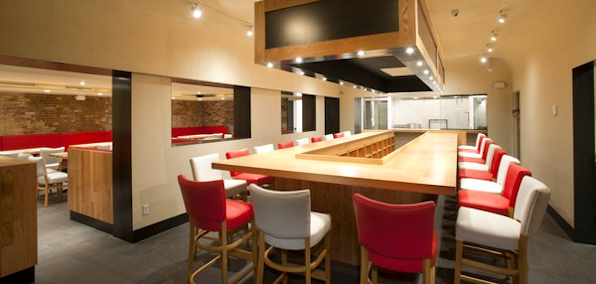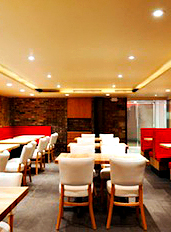 Visions of perfect noodles and pork.
If you were psychic, you'd be having those by now.
But you're not. Probably. So we'll just tell you they're coming...
At
Ippudo Westside
, the Midtown installment of the East Village Japanese ramen joint, now doing the soft-open thing.
By now you know Ippudo's perpetually long-lined 4th Avenue spot. Now there's this other one. A slightly smaller, streamlined version on an out-of-the-way block of Hell's Kitchen. One that's just perfect for casual dates that... somehow end up in Hell's Kitchen.
There are a few additions hither—a garlic-sautéed lamb chop here, a pork tenderloin over grilled ramen there. But mostly, you're still coming for tonkotsu ramen. You've got a sparse three options now (all pork-based), with some veggie options forthcoming.
There's a small dark bar at the entrance (try the shishito-tequila cocktail). Pass through to the hostess stand, where they'll first loudly announce you to the room in Japanese, then lead you to either a light-wooded ramen bar straight ahead, or a low-slung dining room of red leather banquettes and booths to the left. Be legit. Go for the ramen bar. Sometime in August, they'll open an additional 10-seat ramen bar upstairs.
Noodles are better at elevation.