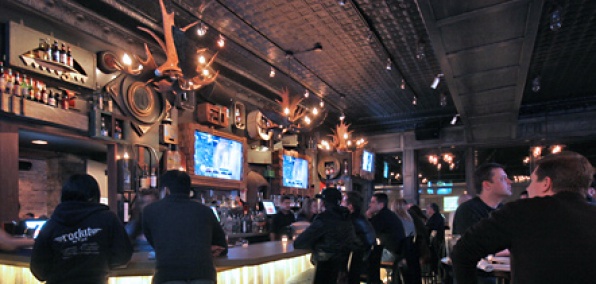 Wild nights in River North are rivaled only by the sun and fun of the Friendly Confines.
So we think it's about time someone combined the two…
Introducing
Rockit Bar & Grill Wrigleyville
, the North Side outpost of
Billy Dec
and Co.'s famed postwork playground. It debuted directly across from Wrigley last night, so allow us to be the first to show you around.
When you enter, you'll find yourself in familiar territory. The former Tuscany on Clark space now channels Rockit's timber-beamed panache, right down to those moose paddle chandeliers above the front bar—think Ted Kaczynski's cabin with a Nate Berkus makeover.
While this place will obviously attract game-day hoopla—especially when the wide and shady 80-seat patio opens next week—this Rockit's cozier scale means you'll be able to make it more of an everyday destination.
Cubs' off-nights will find you plopped on a couch upstairs with a Belgian white ale watching the Blackhawks playoffs. The menu brings the decadence of the Kobe
Rockit Burger
and truffle french fries, as well as new creations like
Fried Chicken Salad
and mini hot dogs, giving you a solid pre-Metro dinner option. And the dining room televisions play cool nature videos during nonessential games, rather than random ESPN nonsense.
Not that the 2006 World's Strongest Man isn't important.