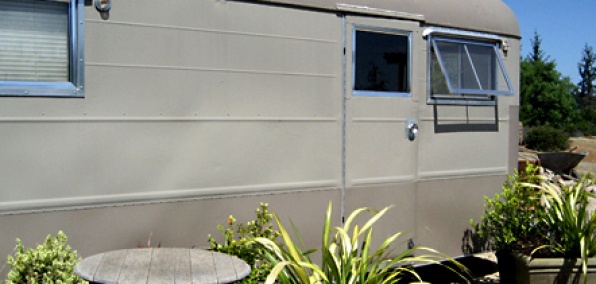 Wine is as good an excuse as any to get the hell out of Dodge.

Trouble is, after you've been to a few tasting rooms—whether in caves or castles—it feels like you've been to them all.

Unless, of course, the tasting room in question happens to be a trailer.

Say hi to the folks at Behrens Family Winery—Napa's only tasting room housed in a vintage '47 Westcraft trailer perched high atop Spring Mountain—pouring by appointment now.

Parked at the point where Spring Mountain Road dead-ends upon an 1,800-foot bird's-eye view of Napa's valley floor, Behrens will be your nonconformist tasting bar on wheels for varietals like Syrah and Cabernet and red blends like the '06 Fat Boy (the Harley of the wine world).

If you're wondering what to expect from vino poured inside a narrow wood-paneled trailer owned by a Humboldt winemaker, you'll be glad to learn that the wines are legit—consistently scoring in the 90s by wine experts in the know.

Of course, you'll have ample opportunity to judge for yourself, as you sample about nine different wines during the hour-long private tasting. After that, spread out at the tables outside where, on a good day, the outdoor pizza oven will be fired up and turning out crisp, bubbly pies.

Which is basically trailer talk for a cheese plate.