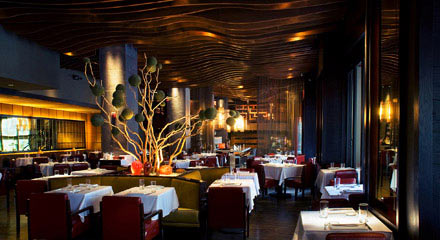 If 2005 was all about the speakeasies, nothing says 2006 like a shiny megalopolis of an Asian restaurant.

And we've got another live one here, folks.

Enter Chicago import Japonais. The Japanese restaurant that's all the rage in the Midwest (and you know that means something) is going to try to make friends with New Yorkers as it opens today. They have the requisite sexy design, with more red lacquered surfaces than a geisha's boudoir. They have the requisite haute menu (with dishes like Carpaccio Lamb Tataki and the beefy action-packed The Rock, strip steak cooked on a rock). They also have a wood-paneled outdoor veranda, which is a little Asian countryside meets...er...Park Avenue South. 

But what might be most appreciated by our low-profile brethren are the two tucked-away lounges, one to the right of the main bar and one upstairs. For what might be the liveliest scoping scene east of Park, grab a group and chill upstairs in a low-slung Japanese-style living room (complete with rubber ceiling and a DJ). Enjoy bites from the lounge menu, which samples from main menu items like spicy Tokyo Drums, braised pork Manju Buns and Eight Samurai Tartare (because seven is for amateurs). 

House cocktails like the Japonais Bloody Mary (with wasabi shochu) and Sake Martini (sake and iichiko shochu, shaken) should shake up your night here, if the hungry-for-more crowd doesn't.

I guess we're not in Illinois anymore.