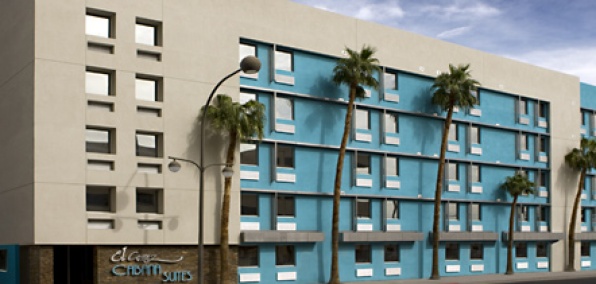 We love a shiny tower as much as anyone, but sometimes you have to bust out your best Rat Pack suit and venture into the world of bourbon and smoky-voiced crooners.

That's right, Old Vegas lives. And we know just where to find it.

Introducing the new El Cortez Cabana Suites, a set of shiny new rooms dropped in straight from the city's '50s heyday.

The El Cortez has been a downtown staple since the desert days—1941, to be precise—and they haven't changed the neon sign out front since Meyer Lansky and Bugsy Siegel were running the place. So the owners know every last secret that went into making the old city your favorite paradise for dice and debauchery, and when they came into possession of a new block of rooms just down the street from their legendary flagship, they didn't have too much trouble turning back the clock.

The result is a far cry from the Bellagio…but that's the whole point. From the lime green walls to the Art Deco credenzas, just about everything here is a relic from an earlier, less glossy time. And while you won't be the most centrally located man on the Strip, you'll more than make up for it with a vintage Cadillac DeVille's worth of street cred.

Trust us, that's a lot...