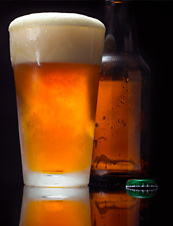 Sometimes it's good to be outnumbered.
Like happening into girls' night out or accidentally bringing a bunch of vegans to a pig roast.
So we think a solitary brewhaus smack in the heart of wine country is a winner.
Here keeping it real is
Sonoma Springs Brewing Company
, a boutique brewery near Sonoma's plaza specializing in an array of new Bavarian beers, open tomorrow.
This yeasty brewery will be your German-inspired oasis in a vine-filled valley. And now, after tilting back a few chards and cabs at the surrounding wineries, you'll be able to mix things up with lagers and ales.
Head to the wooden bar in the tasting room (Sonoma-talk for "pub")—which is very much a working brewery with cooperage and tanks in plain sight—and let brewmaster Tim walk you through six or so of his concoctions.
If you're new to Old World-inspired, all-wheat beers (there's one pale ale in the bunch), start with a flight—four brandy snifters' worth—of beer. Try the flagship
Roggenbier
(a revival of their Red Rye with a sweetness that'll pair particularly well with pork), and since you're in wine country, opt for the Hefeweizen that's fermented for a week in chardonnay barrels.
Bring your own growler, and they'll fill it with specialties like the Doppelbock made with smoked malt that, at 8%, is best enjoyed at home.
If you can make it that far.