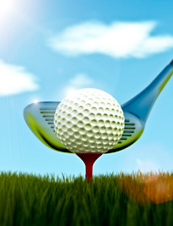 Weather like this shouldn't be taken for granted.
But sometimes, getting out of the office isn't as easy as it should be. (And you already called in sick due to 
pteronophobia
once this year.)
That's why you'll want to bookmark SF-based
World Golf Tour
, a free online golf game featuring sunny, HD-quality versions of world-class courses.
The game lets you tee off at some of the country's best clubs—all without the pesky travel arrangements. Instead, you can hit a few birdies with your buddies—even the ones back East—while sitting at your desk "working" in between conference calls.
The first thing you'll notice is the true-to-life graphics, which the guys at WGT painstakingly achieved by helicoptering over courses with HD cameras. They also plugged weather conditions into their patented physics simulation engine and, of course, personally tested the greens. (Nice work if you can get it.)
After a few games, you'll rack up enough points to buy your avatar a Ping driver from the pro shop. Or, look for Bethpage's legendary Black Course to come out in May (with Pinehurst next), and if you win next month's virtual U.S. Open, you'll find yourself at Pebble Beach in 2010.
And we don't mean virtually.