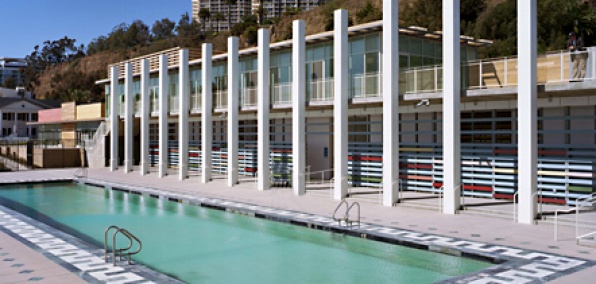 If there's one thing you relearned these last few scalding days—heat bad, beach good.

But now when you head to the sand, you can have some water to go with your water—the Annenberg Community Beach House opens in Santa Monica this weekend, and we'll be seeing you at the pool.

A public service of the best kind—the kind involving sun block and some bare skin—the five-acre property is for the finer things in SoCal life, like a rigorous bout of oceanside tennis, or a rigorous session of poolside lounging. All of which you could find with a hefty high-maintenance membership somewhere exclusive and expensive, but lately you're feeling more…man of the bikinied people.

And if your cadre of sun worshippers starts waxing historic about legendary summers of yore, you'll want to note this property once belonged to Marion Davies, who moved in after William Randolph Hearst built her a giant '20s party pad for guests like Gable and Grant. The actual mansion is long gone, but the guest house and pool remain…with 21st-century touches like a bike valet.

Try requesting that at the Bazaar.