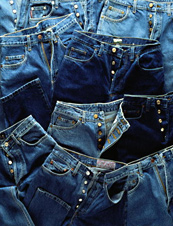 We like where the recycling trend is going.
First plastic bottles were turned into fleece jackets, next came bikinis (restoring our commitment to filling our blue bin).
And just when we thought it couldn't get any better, we discovered a near-perfect pair of jeans made of…recycled jeans.
Introducing
Sugar Cane Recycled Denim Sweet Jeans
—your new Earth Day-worthy dungarees crafted in Japan of yarn made from recycled denim—available exclusively at Self Edge in the Mission.
These extremely limited-production jeans (only 50 pairs outside of Japan) are like the denim equivalent of a Tesla Roadster in an SUV-dominated world.
You probably already know about Sugar Cane's signature denim blend of sugar cane and cotton fibers, so you know you'll be in good hands when you try their new blend. And we think that the process of macerating denim tossed onto the cutting-room floor and spinning it back into yarn can only make your jeans, well, twice as denim-y.
Rest assured that the keen new recycled blend won't take away from the quality of that old-school jean appeal. Like a true classic, these come "raw" so you'll get to break them in yourself—wear them for everything from riding to work to sitting at the bar.
And, like a fine Barolo (or bikini), they'll get better with age.